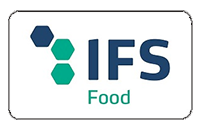 At Euroflax97 we have adequate and modern facilities as well as rigorous health and traceability controls that have allowed us to obtain the European quality certification IFS (International Food Standard).
Following our continuous eagerness to improve, all our products are exempt from allergens, such as gluten, milk, milk protein, soy, egg, nuts, etc. In addition, suppliers of the main raw materials are certified under ISO, IFS or BRC quality standards.
To adapt to our continued commitment with the environment, our waste is treated by an Authorized Waste Manager who is responsible for its transfer to the treatment plant for its management.
Our R + D + I department works on the design of new products, as new products No added sugar and also, increasing the natural juices in our recipes. Step by step, we are replacing artificial dyes with natural ones. In addition, we are developing new flavors that we hope you like.